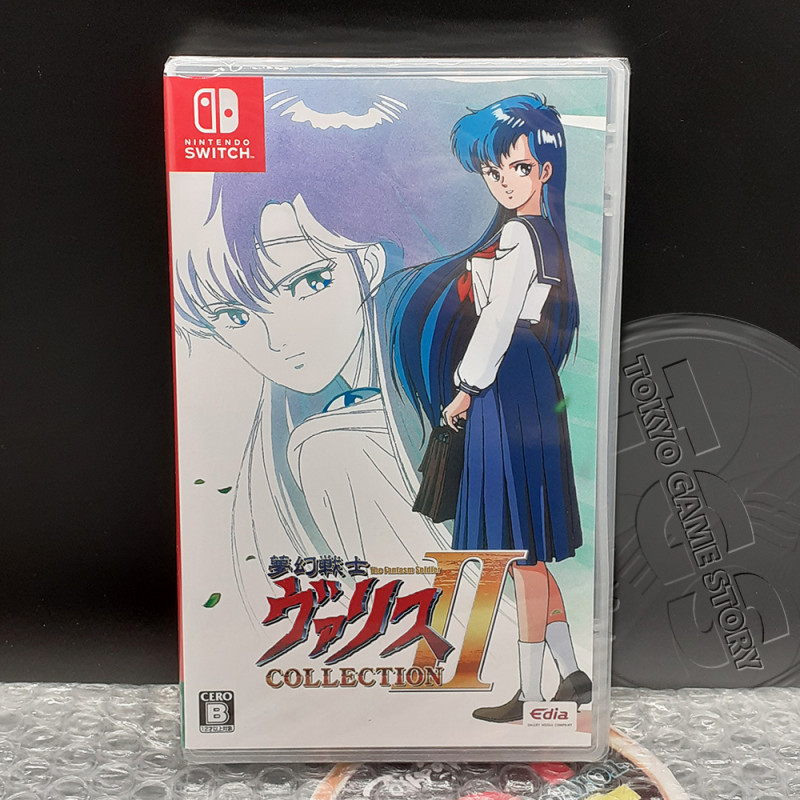 
Valis The Fantasm Soldier Collection II (4 Games) Nintendo Switch Japan Neuf/NewSealed
Sold Out
Factory sealed brand new item (see photos)
Japanese edition (Region Free).
Game in Japanese 日本語

Contains on the cartridge:
Valis IV
SD Valis
Valis Fantasm Soldier Megadrive
Valis Fantasm Soldier MSX
Playable:

All Nintendo Switch Systems

You will receive the exact same item that you see on the pictures

ALL OUR ITEMS ARE SHIPPED FROM FRANCE, SO THERE NO CUSTOM TAX IF YOU LIVE INSIDE EUROPEAN UNION!
Payment in 4 installments without fees!

Buy now, pay later with PayPal in 4 fee-free installments

Worldwide shipping, very well packed. Dispatch in less than 24h!

(we're very carefull & we protect very well the products so you can receive it in perfect condition)

No Custom, Nor Duty tax if you live inside European Union!!

Secured payments

(We accept Visa, CB, Mastercard, Paypal and Bank transfer payment)
Valis IV

The most intense threat to the Valis warrior has come to life. . . Eons ago in the passages of time. . .
King Gallagher and his generals began a war to possess the Giya world, using the Ring of Titan which has infinite power. The lord of Giya was angered so greatly by this maneuver, he destroyed the ring and sealed Gallagher and his followers into a crystal pillar, and buried it deep under the sea.

One electrified evening the red moon broke through the clouds and calmed the motion of the sea. The gigantic crystal pillar suddenly rose toward the sky with a thunderous noise, parting the sea in two. The rising of the red moon awakened the evil King Gallagher and his generals from their crystal slumber.

The Valis warrior, Yuko Ahso, has become a Goddess of Valia and attempts a desperate search for a new Valis warrior to defeat GaIlagher and his forces. The strongest fighter is Lena Brande, the only hope to save Dream World.
Lena breaks out of Vecanti and heads for Castle Vanity, a Dream World beauty now defaced and controlled by Gallagher's General Dahlgen. Lena is strong and brave, but are the Dark Forces too much for her? A new Valis warrior is about to be born.

Syd of Valis

Yuko Ahso looks like an ordinary grammar school student, but she is actually the Valis Warrior. "I defeated King Rogles of the Dark World with the Valis sword which was given to me by Queen Valia, but my friend Reiko died in the process." Yuko went home by train after that terrible fight. She didn't have the slightest idea that she would be summoned to fight again.

"Yuko..." said a familiar voice. "Reiko," said Yuko, "is that you? But I thought you..." Reiko quickly admonished, "Go and see Queen Valia, Yuko. Emperor Megas has threatened Dream World and our friend Vecanti.
When Yuko was told of Vecanti's great danger, a burning desire moved Yuko to action. She has risen to crush Megas' ambition!

Valis: The Fantasm Soldier

What would you think if your best friend went on a date with the King of the Dark World - because she thought he was cute?! You'd think she'd been duped - and you'd be right.

The fiendish King Rogles stands poised to conquer the other worlds of the universe: the Dream World of Queen Valia, and the Human World. Rogles and his five Dark Lords have taken the force of Yang from Queen Valia and sealed it into a Fantasm Jewel. Only a warrior with a heart perfectly balanced between Yin and Yang can wield the Sword of Valis against the encroaching darkness!

Yuko, a young student from the Human World, is the chosen one - and you will control her. She is to become the greatest warrior in the universe, never suspecting that her most fearsome battle will not be against a Dark Lord, but against her closest friend from the Human World - the one she warned, "Don't go out with him, he's the Dark..."

But before she could finish, her friend ran off into The Darkness.
Data sheet
Game language

Japanese

____________________________________

Category

Nintendo Switch

Region Code

Region Free

Country of origin / Version

Japan

Compatible with

Region Free, all Nintendo Switch consoles

____________________________________

Condition

Brand new, factory sealed

____________________________________

Envois / Shipping:

Envois / Shipping

Envois en France et dans le monde entier avec numéro de suivi / We ship worldwide with tracking

Envois / Shipping *:

Envois sous 24h en semaine / Orders are dispatched within 24 Hours on weekdays

Envois / Shipping **:

Seller offers Combined Shipping Discounts!

____________________________________

____________________________________
____________________________________

Kind of games

Plateform-Action

Series / Licenses

z Others

Editor

z Other

Release date

2022

Players

1

PEGI, CERO

CERO - B (Japan)

Contents

With the box

language on the box

Japanese

Barcode EAN-13 ou JAN

Sub-category

All Game soft
Brand new Items
Japanese games

Support:

Physical Game
No customer reviews for the moment.
Customers who bought this product also bought: