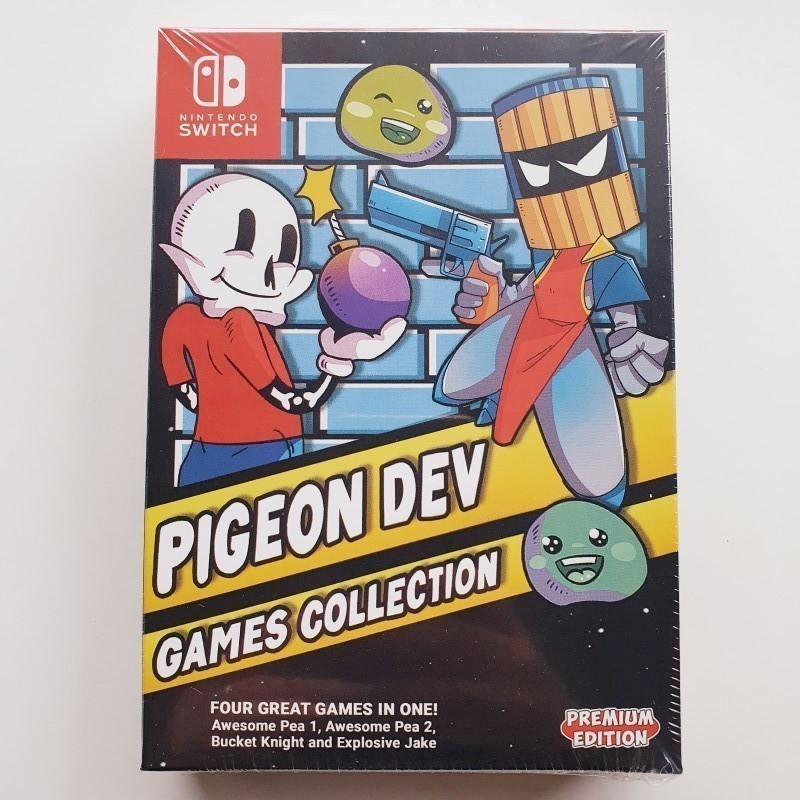 
Pigeon DEV Games Collection Retro Edition SWITCH US Ver.NEW PREMIUM EDITION Compilation Nintendo
In stock
Brand new item, in perfect condition (see photos)


Game in USA with English Subtitle.
Retro Editions include:
Nintendo Switch Physical Case and Game w/ double sided insert,full color manual, & everything else in the Premium Edition.
Steelbook with spine text and beautiful artwork
Retro-Style Box that fits the game case and Steelbook
Playable:

All Nintendo Switch Systems

You will receive the exact same item that you see on the pictures

ALL OUR ITEMS ARE SHIPPED FROM FRANCE, SO THERE NO CUSTOM TAX IF YOU LIVE INSIDE EUROPEAN UNION!
Worldwide shipping, very well packed. Dispatch in less than 24h!

(we're very carefull & we protect very well the products so you can receive it in perfect condition)

No Custom, Nor Duty tax if you live inside European Union!!

Secured payments

(We accept Visa, CB, Mastercard, Paypal and Bank transfer payment)

We buy all your games and goodies (if you are already a customer, you'll get a 10% up offer)
About the Game Collection:
The Pigeon Dev Games Collection consists of four amazing indie titles from the same developer: Awesome Pea, Awesome Pea 2, Bucket Knight, and Explosive Jake.
Awesome Pea
Awesome Pea is a classic run-and-jump platformer, where you must jump through many challenging levels and help the greedy Pea, who is ready to undergo any trials for the sake of gold. Dangerous dungeons, deceptively beautiful nature, hidden deadly traps, and many MANY coins await you!

What you will definitely find in this game:
Stylish pixel graphics inspired by Game Boy games
30 different levels
Stunning retro soundtrack
Awesome Pea 2
Greedy Pea is back in the game! Now with even more dark dungeons, deadly traps and gold!

What you will definitely find in this game (again):
Pixel Gameboy-style graphics (when everything is green)

25 different levels

Retro soundtrack (sounds like your old computer)

Lots of shiny coins
Bucket Knight
Bucket Knight is a classic run-and-gun platformer game. Even knights still have to pay taxes, loans and alimony. Help unnamed but brave knight in his sacred mission to find the Holy Grail (and make some money). Explore dungeons, slay enemies, avoid traps, stay alive and get rich!
Features of the Game:
Explore dangerous dungeons filled with traps, treasures and... food?
Various enemies that will try to shoot you, stab you, explode you or will try to be your friend... nevermind, just shoot at them
Multiple weapons for every honorable knight taste
Deadly traps that you never want to put at your home (but maybe at your ex home)
Gold, gems and treasures
There is no text in the game and the story is told through visuals
Explosive Jake
Explosive Jake is a classic arcade game. Not only humans afraid of dark and deep dungeons. Our hero - a little skeleton with unhealthy crave of explosions, which trying to escape from dangerous castle dungeons. Help him to avoid enemies and explode the way out.

What do we have here? 40 levels of...
Dynamite

Explosions

Vile knights

Cute skeletons

Charming rats

Deadly traps

And even more dynamite and explosions!
Data sheet
Category

Nintendo Switch

Sub-category

All Game soft
American Games
Brand new Items
限定版

Condition

New, never used

Release date

2021

Kind of games

Compilation

Players

1

PEGI, CERO

ESRB - E10+ (US / Canada)

Editor

Premium Edition

Series / Licenses

z Others

Country of origin / Version

USA

Compatible with

Avec Joy-Con et Manette Pro
Region Free, all Nintendo Switch consoles

language on the box

english

Game language

english

Barcode EAN-13 ou JAN

Region Code

Region Free
No customer reviews for the moment.
Customers who bought this product also bought: